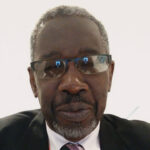 Rev. Emerson Boyce is an ordained minister with more than 44 years' experience in full-time ministry in the Caribbean. Effective January 1, 2012, he became the Secretary General / CEO of the Evangelical Association of the Caribbean (EAC).
Prior to joining the EAC Staff in 1999, Emerson served in many administrative/leadership positions within the Pentecostal Assemblies of the West Indies (PAWI): Missionary Pastor to St. Lucia; General Youth Ministries Director; Assistant General Bishop; Presiding Bishop of the Barbados District; Administrative Office and Executive Director of World Missions. He also gave leadership to the West Indies School of Theology, and served as a Lecturer and Faculty Advisor to students.
He has given volunteer service with the Barbados Evangelical Association, Barbados Christian Council; AD 2000 & Beyond Movement; March for Jesus (Caribbean), Great Commission Round Table, and Director of Operation Mobilization in Trinidad & Tobago. He takes pleasure in facilitating Mission Consultations and Leadership Development Training Sessions. He also enjoys working for increased effectiveness and unity in the body of Christ in making disciples of all nations.
As EAC's Secretary General, Emerson represents the EAC on the Regional General Secretaries Council (RGS) and Global Leadership Team (GLT) of the World Evangelical Alliance. In addition, he makes time to serve as a Director with Prison Fellowship of Trinidad & Tobago (PFTT) and an Executive member of the Pentecostal Assemblies of the West Indies North East Trinidad District.
Emerson received training at the West Indies School of Theology in Trinidad; Haggai Institute of Advanced Leadership in Singapore; Global Trainers Training in the Philippines; and other Tertiary Institutions. Rev. Boyce believes that leaders could create synergy by networking across the region, thereby enabling the Church in the Caribbean to make quantum leaps into the present and future. He is passionate to see the Church in the Caribbean work together to fulfill the Biblical mandate of discipling the nations for Jesus Christ; transforming and moving people to Christian values; understand and commit to God's Agenda for His Church.
Emerson and his wife, Jennifer (from Trinidad and Tobago), have been married since 1976, and have faithfully served in ministry since then. Together they have one daughter, Lyzette, and as a family, they make their home in Arima, Trinidad.