Arima, Trinidad and Tobago – August 10, 2021
The Regional Board and members of the Evangelical Association of the Caribbean (EAC) joins the Evangelical Community of Antigua and Barbuda to extend their prayerful support to the family, loved ones and nation of Antigua and Barbuda, on the passing of Sir Lester Bird, former Prime Minister of Antigua and Barbuda.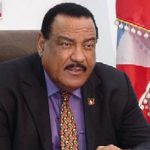 Rev. Emerson Boyce, Secretary General of the Evangelical Association of the Caribbean (EAC) commented: "Sir Lester Bird, a great son of the soil, contributed significantly to the socio–economic development of Antigua and Barbuda. Caribbean leaders acclaim as the architect of modern Antigua, responsible for successfully transitioning the country from an economy dependent on a defunct sugar industry into one of the leading tourism centres in the world."
Under his stewardship, Antigua and Barbuda became a high–income country, transforming the quality of jobs, housing, and introducing high–end tourist resorts.
He was a keen sportsman, with a great passion for cricket and a superb pace bowler. He represented Antigua and the West Indies and won a bronze medal for long jump at the 1957 Pan American Games.
Sir Lester, a committed regionalist, was highly instrumental in establishing the Organisation of Eastern Caribbean States (OECS). He was a great orator and a progressive thinker whose vast experience and political knowledge served the people of the Caribbean well in the councils of CARICOM.
We are praying for his family, friends and the nation of Antigua and Barbuda during this difficult time.